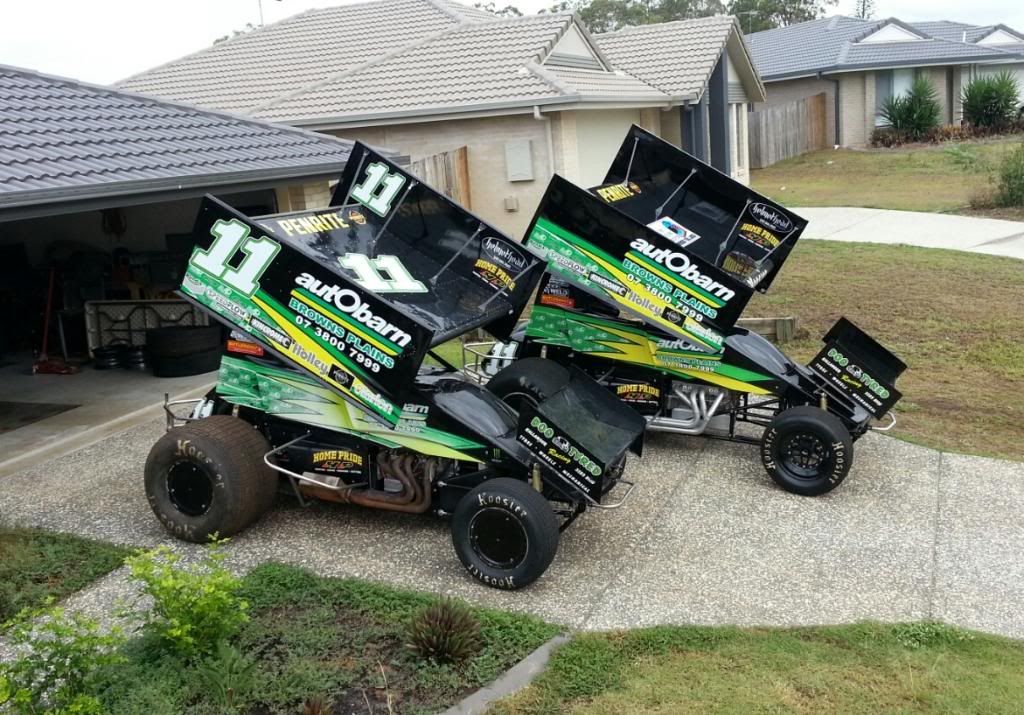 Photo - Brodie Tulloch's B&D Racing Q11 Sprintcars out of Queensland, Australia
TJ Hartman Racing - Update: It's a Roller Coaster!
Brisbane, QLD Australia - February 3, 2013...
Despite the efforts of the team in Queensland doing everything they could to get the Scott Wilson owned/ Western Landscape Supplies Q59 midget to perform, engine gremlins reared it's ugly head once again, and left TJ Hartman sidelined before the night barely got started.  The Australian Midget Championship at Brisbane's Archerfield Speedway drew nearly 30 competitors from 3 countries, and as he as showed before, TJ put the Mopar powered Spike chassis near the top of the speed charts.  Qualifying 5th, his night would end after the 1st heat race when the oil pressure dropped, and metal was found in the oil filter.

"It's not how we wanted this to end in the midget,"  a solemn TJ states.  "Scott and all of Sid's team, along with Keith Hussey his engine builder, worked hard to make this happen, and it just wasn't meant to be.  We can be fast in this car but we just need some luck to happen.  I'm very thankful to have had the opportunity to drive for this team."

All is not lost however, as earlier this week TJ finalized the details to extend his stay in Australia - cancelling his plans to return home on February 6th.  One of the goals for the team to bring the Washington State driver to Australia was to try and open up additional opportunities for the young racer.  The plan is working.   

Mere days before TJ was scheduled to return home to the States following his rookie campaign in the midget speedcars in Queensland and New South Wales, a change in his itinerary is on order.  The extended stay in the Land Down Under, where he has seemingly found a second home, will find him bolting his Butlerbuilt seat onboard Brodie Tulloch's B&D Racing, Autobarn Browns Plains, Dog Tyred, Penrite Oils sponsored, Q11 Eagle Chassis 410 winged sprintcar.
Combining TJ's previous experience behind the wheel of his family owned 360 sprintcar with the knowledge he has gained by running Wilson's and Whittaker's cars on the local tracks, should help him as he gets his feet wet for the first time behind a 410 powerplant.  Tulloch is no stranger to the sprintcars, having owned, driven, and worked on them both in Australia, and in the U.S.  The introduction between the two racing enthusiasts gelled from the start, and both are excited for the opportunity to work together.  They have worked out a tentative schedule for at least two outings with TJ behind the wheel.  Both races are scheduled at Brisbane's Archerfield Speedway in the KRE Series.
Along with looking forward to the golden opportunity afforded him, Hartman recognizes the similarities shared.  "This is another family run operation," he states. "Brodie's family has a long history in the sport with his father, and it's great to listen to him talk about it.  I can relate to Brodie with them doing it as a family.  And even though it's hard to hear about him losing his father, it's great to see him and his team continuing to do what they love."

Hartman talks about what he's expecting once behind the wheel. "Archerfield is a very tricky track," shares the Washington State native. "It's small and the straightaways are narrow.  I'll definitely have to use my head."

With the support of Hartman's midget car owners behind him, the trio was able to put together some additional sponsorship to compliment the companies already aboard the Tulloch machine.  Western Landscape Supplies continues to headline the 21-year-old American, with additional support from Gavin Fletcher of Gav's Engines, Jamie Pearce of Fusion Graphix, Joel Thomas of J&M Racecraft, and Sprintcars Online.

"Being in a 410 for the first time will be exciting," Hartman exclaims. "Brodie has been awesome to talk to, and with him guiding me, I think I can learn a lot and benefit from this experience."

With the exception of Thomas and Tulloch, all of the parties involved were introduced during TJ's trip to Australia back in 2011.  Tulloch and Hartman were introduced through mutual acquaintance Jack Dover during his recent Australian campaign.  Dover's recent return to the States opened up the opportunity for Tulloch and Hartman to get together and continue on with the 2013 season in Australia.

TJ concludes the update: "Everyone down here has been so great.  I'm really looking forward to this opportunity and the chance to continue what I've always dreamed of doing.  It's a dream come true and it's made possible because of everyone involved.  I can't thank them enough.  I want to say an extra thanks to Scott, Sid, Lisa, and all of the family down here for being so much a part of this.  They have made it clear that I have a home here, and that makes it easy to cancel my flight back to the States.  I'm living the dream for sure."
The Q11 B&D Racing Team hits the track on February 16th at the SuperCheap Auto Archerfield Speedway in Round 9 of the KRE Sprintcar Series.  Be sure to tune in and cheer on the Pride of Puyallup, as TJ and Brodie look to put the Q11 up front!  Follow along on twitter at http://www.twitter.com/tjhartman19 or on TJ's Facebook page at http://www.facebook.com/tjhartmanracing
Next scheduled stop - Trading 4 for 8 and coming up with Q11!

TJ Hartman Racing
www.TJHartmanRacing.com


2013 Down Under Sponsors -
Western Landscape Supplies - www.westernlandscape.com.au
B&D Racing - https://www.facebook.com/banddracing
Autobarn Browns Plains - http://www.autobarn.com.au/ or https://www.facebook.com/pages/Autobarn-Browns-Plains/371953672864275
Dog Tyred Kallangur - http://www.dogtyred.com.au/ or https://www.facebook.com/DogTyred.WheelsTyres
Penrite Oils - http://www.penriteoil.com.au/ or https://www.facebook.com/PenriteOil
Home Pride Industries
Brodestar Designs
Eagle Motorsports
QLD Speedway Spares
Gav's Engines - https://www.facebook.com/gavs.engines
Fusion Graphix - https://www.facebook.com/pages/Fusion-Signs/348568851826074
J&M Racecraft - https://www.facebook.com/pages/JM-Racecraft/353818867975413
Sprintcars Online - http://www.sprintcarsonline.com/
2013 TJHR Sponsors -
A1A BuyNSell
A1A Notary
Motorsports Unlimited
Beckler's Mobile Welding Service - www.becklermobilewelding.com
Hooker Harness - www.HookerHarness.com
Parts Plus of Summit - www.PartsPlus.com
Performance Coatings - www.Performancecoatings.com
Rod End Supply - www.Rodendsupply.com
Simpson Race Products - www.Simpsonraceproducts.com
Astro Titanium - www.Astrotitanium.com
Butlerbuilt Professional Seat Systems - www.Butlerbuilt.net
Santomauro Racing Products
Wesmar Racing Engines - www.WesmarRacing.com
Kinsler Fuel Injection - www.Kinsler.com