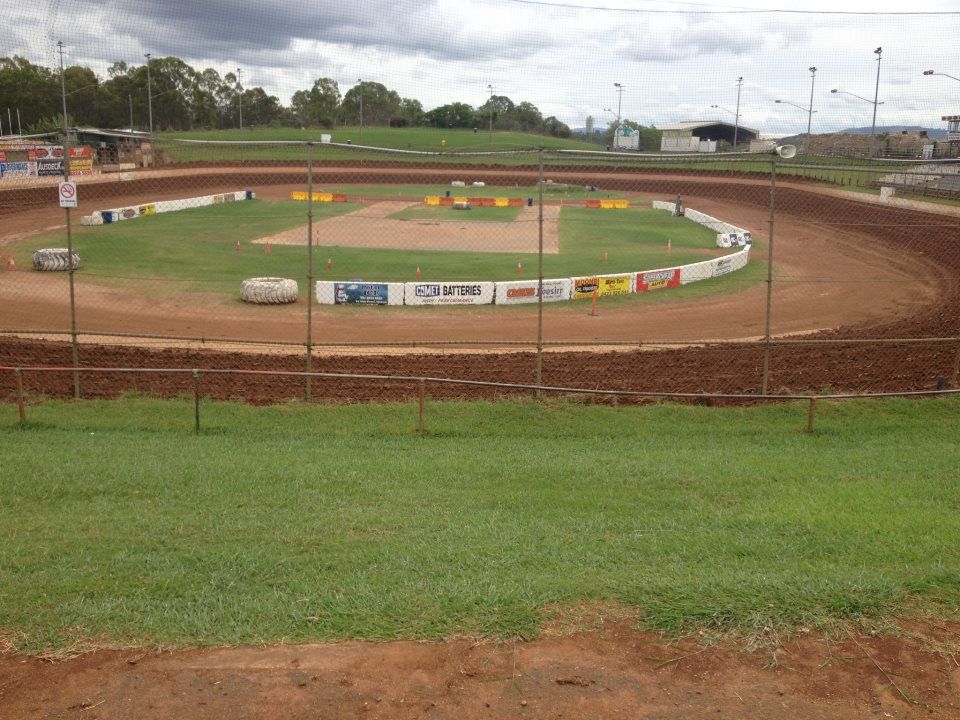 Dark clouds loom over the beautiful Archerfield Speedway - Photo by Archerfield Speedway PR

TJ Hartman Racing - Update: Rain Delays Hartman's 410 Debut!
Brisbane, QLD Australia - February 16, 2013...
Despite the preparation and high hopes of the B&D Racing, Autobarn Browns Plains, Dog Tyred, Penrite Oils Q11 sprintcar team, the team lost out to Mother Nature when inclement weather rolled in and forced the cancellation of the weekend event at Brisbane's Archerfield Speedway.

The team, pairing TJ with car owner Brodie Tulloch, will make the trek South to Lismore, NSW next weekend where roles will reverse and see Tulloch take the wheel with TJ crewing.  "It's a little disappointing," Hartman states about the cancellation of the weekend. "But it's just part of the deal and nothing we can control.  It should be fun working with Brodie next weekend and then I put my seat back in for the next race at Archerfield."

Hartman is next scheduled to drive on March 2nd for Round 10 of the KRE series at the SuperCheap Auto Archerfield Speedway.  The Puyallup, WA based driver welcomes the additional dates to his Australia schedule.  "It's just been great down here,"  TJ states.  "I'm having a great time and everyone has been so good to me.  I want to say thanks to Brodie's sponsors, along with Western Landscape Supply, Gav's Engines, Fusion Graphix, J&M Racecraft, and Sprintcars Online.  These people helped put this together and I can't thank them enough.  I look forward to representing them on the race track on the 2nd."
Be sure to stay up on the latest news for TJ and the Q11 sprintcar team by following along on twitter at http://www.twitter.com/tjhartman19 and don't forget to hit the 'Like' button on TJ's Facebook page at http://www.facebook.com/tjhartmanracing where the fans can interact with TJ between races, and get instant updates on race night.
Next scheduled stop - Lucky Lismore!
TJ Hartman Racing
www.TJHartmanRacing.com


2013 Down Under Sponsors -
Western Landscape Supplies - www.westernlandscape.com.au
B&D Racing - https://www.facebook.com/banddracing
Autobarn Browns Plains - http://www.autobarn.com.au/ or https://www.facebook.com/pages/Autobarn-Browns-Plains/371953672864275
Dog Tyred Kallangur - http://www.dogtyred.com.au/ or https://www.facebook.com/DogTyred.WheelsTyres
Penrite Oils - http://www.penriteoil.com.au/ or https://www.facebook.com/PenriteOil
Home Pride Industries
Brodestar Designs
Eagle Motorsports
QLD Speedway Spares
Gav's Engines - https://www.facebook.com/gavs.engines
Fusion Graphix - https://www.facebook.com/pages/Fusion-Signs/348568851826074
J&M Racecraft - https://www.facebook.com/pages/JM-Racecraft/353818867975413
Sprintcars Online - http://www.sprintcarsonline.com/
2013 TJHR Sponsors -
A1A BuyNSell
A1A Notary
Motorsports Unlimited
Beckler's Mobile Welding Service - www.becklermobilewelding.com
Hooker Harness - www.HookerHarness.com
Parts Plus of Summit - www.PartsPlus.com
Performance Coatings - www.Performancecoatings.com
Rod End Supply - www.Rodendsupply.com
Simpson Race Products - www.Simpsonraceproducts.com
Astro Titanium - www.Astrotitanium.com
Butlerbuilt Professional Seat Systems - www.Butlerbuilt.net
Santomauro Racing Products
Wesmar Racing Engines - www.WesmarRacing.com
Kinsler Fuel Injection - www.Kinsler.com