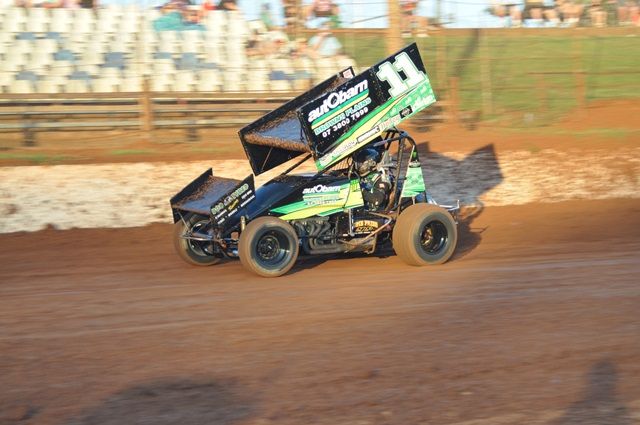 Photo Courtesy of Shelby Dawn - TJ getting the AutoBarn Eagle #Q11 up to speed at Archerfeld Speedway!


TJ Hartman Racing - Update: Weather clears but the Gremlins hung around!


Brisbane, QLD Australia - March 16, 2013...


TJ's much anticipated debut behind the wheel of Brodie Tulloch's B&D Racing, Autobarn Browns Plains, Dog Tyred, Penrite Oils sponsored, 410 Eagle sprintcar was met this past Saturday with great weather at Brisbane's Archerfield Speedway.  Mechanical issues sidelined the team before the night was over, but not before the team was able to turn a few laps and show some speed in the process.  Disappointments aside, the duo expressed their excitement in how they performed with the initial outing.


"It's definitely not something we wanted to happen,"  states Hartman.  "But we found out real fast that we can communicate and I felt really comfortable in the car.  It's been awhile since I've been in a sprintcar and for my first time in a 410, I'm pleased with the numbers we put up in hot laps."


An oil pump problem sidelined the Morayfield based team just as TJ took to the track for qualifying.  The Puyallup, WA based driver explains;  "Everyone on the team was bummed that we had engine troubles, but the sportsmanship from the other teams down here is great.  One thing about Brodie is he never gives up and always tries to show he can overcome breakdowns and try to get back out there to finish up the night."

Fellow competitor Brock Dean loaned the team a spare oil pump, but a problem persisted as they tagged the back of the B-main.  "We've got some work to do this week, but it's going to be great heading into Saturday with fresh minds and everyone in a rhythm working together," states an enthusiastic Hartman. "Brodie, Rob, and Ash were great to work with and I can't wait until next week."

TJ also wishes to thank Western Landscape Supplies, Gav's Engines, Fusion Graphix, J&M Racecraft, and Sprintcars Online, for their continued support while he is Down Under.

Be sure to follow along on twitter at http://www.twitter.com/tjhartman19 or on TJ's Facebook page at http://www.facebook.com/tjhartmanracing for updates on the progress as the B&D Racing Q11 takes to the track next Saturday, March 23rd at Archerfield Speedway.


Next scheduled stop - Engine Doctor!


TJ Hartman Racing
www.TJHartmanRacing.com