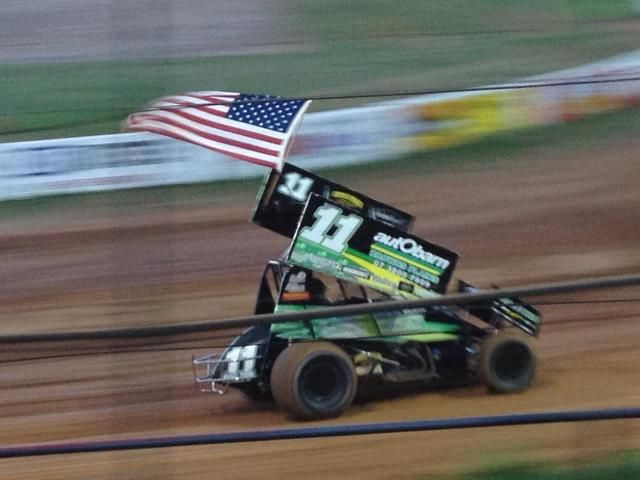 Photo Courtesy of Christi Gallegos - TJ displaying his homeland colors during pre-race ceremonies at Archerfield Speedway!
TJ Hartman Racing PR - Lifted Spirits!
Brisbane, QLD Australia - March 23, 2013...


Ending a drought that has included everything from mechanical issues to typhoons cancelling races, TJ and car owner Brodie Tulloch were finally rewarded for their hard work and tenacity.  Following the demise of the teams sole engine last week, the duo wasted no time pulling the 410 powerplant and getting it prepared for round 10 of the KRE Sprintcar series at Archerfield Speedway this week.  The reward was a night with little issues, and a chance to finally work together and find the balance they need for a full night on the track.


A low pill draw relegated the Autobarn Browns Plains Q11 to the first of six hotlap group qualifying sessions required to accomodate the nearly 30 cars on hand. "The track was still just a bit greasy," stated the Puyallup, WA driver. "I wasn't able to get a good time and that put us pretty far back in the points to start the night."


Making the most of his outside front row starting position in heat one, Hartman took the lead from the start and never looked back.  He talks about the team plan for the night.  "Before the heat (race), Brodie said all I need to do is stay smooth and keep the car straight and everything else will fall into place.  It paid off and it was good to gain back some of the points we missed on qualifying."

The second round of heats found TJ backing up just a bit, as he struggled on the start.  A 5th place finish added to his previous efforts, and would line the team up 3rd in the B-main.  "I was lucky in the B-main where I missed the first start and dropped back to 4th," Hartman states. "There was a red flag before the first lap ended, which the two front row guys were involved in.  On the restart, Peter (Lack) beat me to the first corner, and I just remembered what Brodie had said earlier in the night, and we ran a comfortable 2nd which put us in the feature."

Hartman would line the B&D Racing Eagle chassis up in the 15th starting spot for the 30 lap main event, and found himself working forward before spinning to a stop to avoid another stopped car.  "Archerfield is a very tough track to pass cars, especially when it has some moisture," notes Hartman. "The car was just a little to tight, and the moisture didn't go away as much as we were hoping.  But all in all, it was great to get a whole night in.  I got some really good laps under my belt, and I learned quite a bit by following (eventual race winner)Shane (Stewart) and figuring out where I was making my mistakes."

An excited Hartman adds: "I can't wait to get back to Archerfield.  I would like to thank everyone on the B&D Racing team, and all the people making this possible!  Brodie and Rob are great to work with at the track.  It was also good to see my friend Dale hang around for a bit, and all the messages I received from Sid Whittaker and his son Rusty for the encouragement was awesome.  It really lifts your spirits and makes you try that much harder."
 
Along with Autobarn Browns Plains sponsorship, the team wishes to acknowledge Dog Tyred, Penrite Oils, Western Landscape Supplies, Gav's Engines, Fushion Graphix, J&M Racecraft, and Sprintcars Online for their support.  "I am happy with the results for my first full night in a 410 sprintcar," states TJ. "This wouldn't be possible without everyone involved, and I can't say enough how much I appreciate the opportunity."

TJ is tentatively scheduled to get back into action on April 13th at Archerfield Speedway.  This coming weekend he will be crewing for car owner Brodie Tulloch for the Tri-City Shootout. Be sure to show your support by signing up and following along on twitter at http://www.twitter.com/tjhartman19 or on TJ's Facebook page at http://www.facebook.com/tjhartmanracing where you will find the latest news and information.

TJ's final thought: "I can't thank everyone enough for all your support.  It's fun to read all the comments and replies on my social network sites.  The stats really show how much you guys are supporting us and I'm working hard to make it payoff for everyone."


Next scheduled stop - Getting tips from Ricky Bobby!

Results - 3/23/2013 Archerfield Speedway:
Qualify: 22nd
Heat 1: Start-2nd, Finish-1st
Heat 2: Start-3rd, Finish-5th
B-Main: Start 3rd, Finish-2nd
A-Main: Start 15th, Finish-

TJ Hartman Racing
www.TJHartmanRacing.com