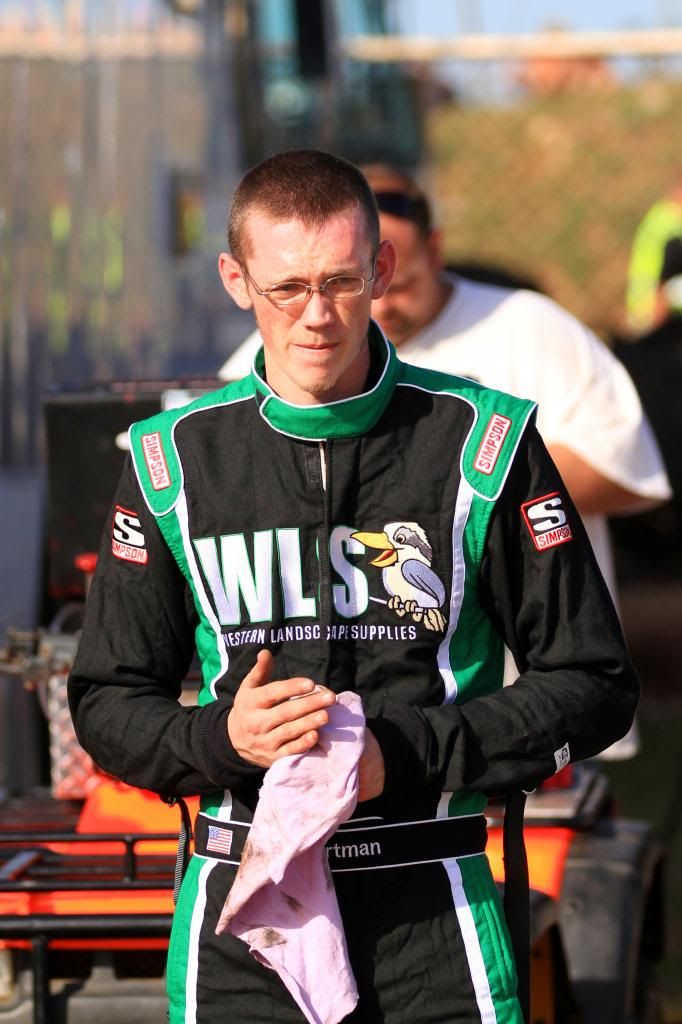 Photo - TJ suited and ready for action Down Under
TJ Hartman Racing PR - Heading North!

Morayfield, QLD Australia - April 14, 2013...


Rain over the past week and this past Saturday morning was cause for cancellation of the final weekend of racing for TJ Hartman's 4 month stay in Australia.  Originally slated to run 5-6 races in December and January for car owner Scott Wilson in his Western Landscape Supplies Q59 Midget, TJ found additional opportunities when he hooked up with car owner Brodie Tulloch and his B&D Racing, Autobarn Browns Plains 410 Sprintcar.  Unfortunately, weather and mechanical issues sidelined the team for much of the extended stay, and the 21 year old Puyallup, WA native will board a flight on Wednesday to return to the States for the first time since early December.


Hartman is optimistic, even with the disappointment of not being able to run the final weekend.  He reflects on the opportunity:  "Of course as a racer you want to be in the car everyday.  But some things are just out of our control and we just look forward.  It's all we can do."


There are many to thank for making the past 4 months possible, and TJ will have the opportunity to sit down and reflect on everything once he returns to Washington.  He will also be figuring out the next step for the 2013 race season and his own team which sits idle at the moment, but ready to go.  "There are just so many people to thank,"  Hartman states in a grateful voice.  "I want to do it properly so I'm going to wait until I get back and sit down to do it right.  I cannot thank Scott, Sid, Brodie, and the sponsors enough for giving me the chance to drive their race cars.  And most of all I want to thank Sid and Lisa Whittaker for giving me a home and a family in Australia.  Sid took a chance on me as a driver and as a friend, and it's something I will always be thankful for.  Also to Brodie, as I have made a new friend who is great to hang out with.  Now, I'm just ready to get on the plane and back to my other family.  It's been a great 4, almost 5 months in Australia, where I have met a lot of great people and had a ton of fun.  I can't wait to come back."

Hartman's flight lands in Seattle on April 17th.  Follow along on twitter at http://www.twitter.com/tjhartman19 or on TJ's Facebook page at http://www.facebook.com/tjhartmanracing for the latest information and to see what's in store for TJ next.


Next scheduled stop - Currency Exchange and learning to drive on the left, er, right, again!

TJ Hartman Racing