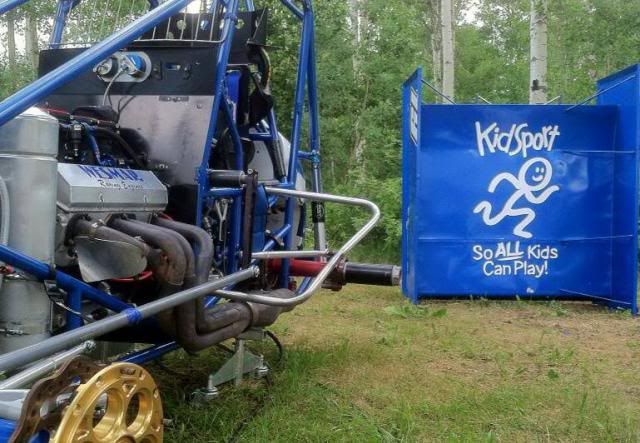 Photo - Maintenance Day on the Kidsport Edmonton #19

TJ Hartman Racing - Update: No Gold in Edmonton!
Edmonton, AB Canada - July 21, 2013...



The two day Gold Cup event in Edmonton this weekend ended with a rainbow - not what the 36 sprintcar teams at Castrol Raceways were hoping for.  TJ teamed up with Kidsport Edmonton and the EBR Motorsports crew to take a shot at glory in his own #19 Maxim chassis, but Mother Nature came calling Saturday night, and washed out the finale, and any chance the racers had at finding gold.

The format for one of Canada's most prestigious 360 sprintcar events warrants the teams to give it their all every time they hit the track.  With points for qualifying, heat races, and Fridays main event being added to the same program on Saturday, TJ found himself in a slight hole after the first night of competition.  "I was worried about drawing a 64 the first night."  Hartman states. "I was one of the last cars to go out, but my laps were very good for how the track was, and the times were faster than the cars around me.  But I knew it wasn't going to be good enough to make the dash later on."

The team changed a few things in preparation for the heat race, and starting inside the second row, TJ rode the 3rd position until the final lap, when he almost made a costly mistake.  "I spun out and fell back to 5th." TJ states with relief in his voice.  "I nearly cost us big.  I should have been smarter and tried running a different line after the checkered flag, not during the race.  I wasn't feeling any pressure and wasn't going to gain anything, and I could have cost my team and supporters a spot in the A-main event if I had lost anymore positions than that."


With his qualifying time lining him up 13th to start the feature, TJ set about trying to find a rhythm.  He talks about the race: "I ran around the top 10 for most of the race.  There was a lot of reds and yellows and it was tough to really get a feel for the car and know where you're at for the end of the race when you're only getting a couple green laps at a time.  During an open red I had Scotty make a few changes on the car.  It helped, but I was disappointed with myself because my driving was not at the level it should have been.  I missed my marks and it was costing me valuable track position."

TJ would move forward a few positions at the checkered flag, and end night one with an idea of what he needed to do on night two in order to improve.  "8th place overall made it an OK night." he states.  "It was great to see a few fans stop by and ask where I was from.  Shelby said people were cheering loud during my qualifying run, and several people came over afterward and said I looked great.  I was ready to try and improve on the second night though."

The team unloaded for day 2 and set about preparing for the final.  The blue skies quickly changed however, and officials scrambled to figure out a solution to hurry the program along.  With qualifying scrapped, the heat races would line up based on the previous nights points.  But before any racing could get underway, the skies opened, and the 2013 Gold Cup at Edmonton's Castrol Raceway was a washout.  

TJ concludes the weekend: "I told Mother Nature that I understand she has to do what she does, but I needed some more track time to improve my chances at getting towards the front.  Things happen for a reason and so we will just move on and be ready for the next race.  I want to thank Kidsport Edmonton, EBR Motorsports, and all of my sponsors for their continued support.  I also want to give a special thanks to Lisa's son Matt for lending a hand whenever I needed it.  It was great to have Shelby here too.  She did everything from cleaning the trailer to checking the air pressures.  She was a huge help.  She's the only thing I really like from Dairy Queen!"

The team is looking at a couple of different options for the upcoming weekend.  They had hoped to return to the US to race at Skagit Speedway's Summer Nationals, but plans are unclear at the time of this writing.  Stay up on the latest information by following along on twitter at http://www.twitter.com/tjhartman19 or on TJ's Facebook page at http://www.facebook.com/tjhartmanracing for the latest news and information, along with race night updates.
 
Next scheduled stop - Cleaning the Sluice Box!

Results - Gold Cup Castrol Raceway:
7-19-2013 -
Qualifying: 13th
Heat: Start-3rd, Finish-5th
A-Main: Start-13th, Finish-8th

7-20-2013 -
Rained Out

TJ Hartman Racing
www.TJHartmanRacing.com