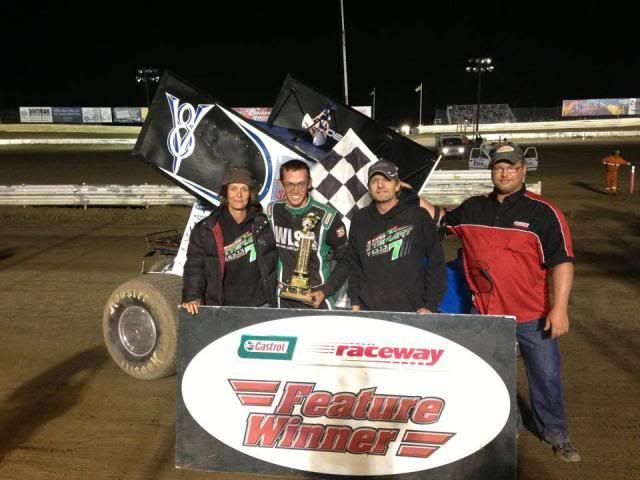 Photo Credit Castrol Raceways Media - TJ finds victory lane with support from EBR Motorsports at Castrol Raceway in Edmonton, AB

TJ Hartman Racing PR - On A Rail!
Edmonton, AB Canada - September 14, 2013...



TJ Hartman and EBR Motorsports teamed up to find victory lane in the season finale at Edmonton's Castrol Raceways.  The Puyallup WA native put the wind in the sails of his Custom Automotive Specialties powered Maxim chassis at the drop of the green flag and never looked back, leading every lap en-route to the victory.   

With his recent decision to move to Alberta, and Castrol Raceways re-scheduling of the 360 powered winged sprintcars for the season finale, TJ was fortunate to have the chance to get another race in the books.   He starts the weekend: "Scotty and I had a game plan heading into the night, and all of the hard work and research we did paid off.  We are keeping these notes for the future that is for sure!"

Representing Kidsport Edmonton, TJ would start his heat race on the outside of the front row, and made quick work of getting to the lead.  "We were pretty dominate in the heat race."  he states.  "We were trying something different, and it gave us a chance to find out if it was going to work for me.  The car was great and the engine was running perfect."

The lineup for the main event placed the team on the pole for the start, where TJ would jump out to a commanding lead.  As the checkered flag flew, it would mark TJ's 3rd win of the 2013 season, in his 3rd division of open wheel cars.  "I feel that I learned and accomplished a lot on Saturday by pushing myself with what we did with the car."  says the confident driver.  "We had a car that was fast tonight, and it was on a rail.  The adjustment we made for the main was perfect.  I have to give a huge thanks, because this weekend would not have been possible without Jimmy Albert and Roger from Custom Automotive Specialties stepping up and letting us use their motor once again."

With the season concluded in Edmonton, TJ has plenty to keep him busy.  He explains:  "Just because race season is over doesn't mean we're going to stop.  We have a lot to do for 2014, and we will be ready.  I cannot wait to get started this Winter with all of the projects Scotty and I are focused on.  I'm so fortunate to have family and friends that are so interested in helping pursue what I want to do."

TJ concludes the weekend: "Special thanks to the Ellis Family for loaning us their trailer, and I really need to thank everyone who called, sent messages, and commented on our social media sites.  It's a great feeling to be involved with all of my great fans.  Really big shout out to the EBR Motorsports sponsors, as well as all of mine for supporting us for so many years.  I'm looking forward to working with them, and many more, next year."

As if this writing, TJ is set to focus on the 2014 season, but is keeping his options open if something should come up for the remainder of this year.  Stay up on the latest information by following along on twitter at http://www.twitter.com/tjhartman19 or on TJ's Facebook page at http://www.facebook.com/tjhartmanracing Be sure to take the time to view http://www.tjhartmanracing.com for a glimpse into past and present news, pictures, and season results.
 
Next scheduled stop - Winterizing!

Results - Season Finale Castrol Raceways:
9-14-2013 -
Qualifying: Pill Draw
Heat: Start-2nd, Finish-1st
A-Main: Start-1st, Finish-1st



TJ Hartman Racing
www.TJHartmanRacing.com