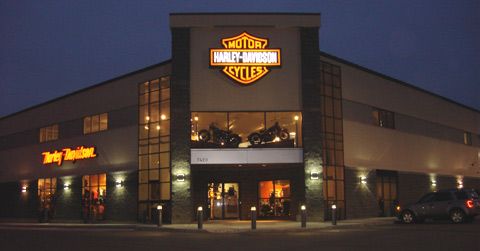 Photo - The Flagship of Harley-Davidson® of Edmonton

TJ Hartman Racing PR - Heating Up in Alberta!
Edmonton, AB Canada - November 25, 2013...

TJ Hartman Racing takes the first big step into 2014 by announcing a marketing agreement with Harley-Davidson® of Edmonton.  Forming a partnership that puts the Edmonton family owned business as a primary sponsor on the family owned #19 sprintcar that TJ drives in ASCS and other series competition, makes it a win-win for the pairing.  The Kent Family knows the value of hard work and dedication - the same principles TJ has applied growing up and since coming into the sport.

This will be the first major marketing program that TJ has undertaken, and it's a challenge he looks forward to.  He lends his thoughts to the program: "I am really pleased that Harley-Davidson® of Edmonton and the Kent Family will be supporting us in 2014.  I know from speaking with Koreen, Bobby, and Kevin, that they are very excited for the service I am offering them, and I know they will be very happy with everything we have planned."

In a unique arrangement, TJ has been able to apply his knowledge of business, and the sport, into a direct benefit for Harley-Davidson® of Edmonton.  It's a concept born through his relationship and the memory of the person(Marshall Schlenz) who brought him into the sport, and blossomed through a new friendship formed with Edmonton businesspersons and racers - Scotty Evans and Lisa Davies.

"Scotty and Lisa were so proud of the accomplishment I made in gaining a big supporter for 2014." states TJ as he reflects on sharing the news. "Scotty and I have worked very hard over the past year and a half to make an opportunity like this happen.  His advice and guidance reminds me of Marshall, and I know all of us can't wait to get to the first race next year!"

Harley-Davidson® of Edmonton began operations more than 30 years ago when Ken and Alma Kent began what has become a true family operation.  Their son Bobby is now the General Manager, and daughter Koreen is teamed up as well to help the business excel.

"We are very much looking forward to partnering with TJ Hartman this upcoming season."  states Dealer Principal/A.G.M. Koreen Kent. "He is very knowledgeable in web design and marketing, and we feel very confident that this will be a successful partnership for us both.  Racing has long been a very large part of our business, as our very own Ken Kent, raced Harley's for almost 4 decades in Canada and the U.S.  We enjoy and appreciate a true competitive spirit and we know that TJ will bring that energy into his work when he recreates our new website!"    

Visit Harley-Davidson® of Edmonton on their web site at: www.hdedmonton.com or contact them by phone at: 780-451-7857 You can also visit their Facebook page at: www.facebook.com/hd.edmonton.com to see all of the latest products and featured items for sale.

For the latest news and information about TJ Hartman Racing, follow along on twitter at http://www.twitter.com/tjhartman19 or on TJ's Facebook page at http://www.facebook.com/tjhartmanracing

TJ Hartman Racing and Harley-Davidson® of Edmonton - You Can't Beat a Family Style Business!
 
TJ Hartman Racing with Harley-Davidson® of Edmonton
www.TJHartmanRacing.com